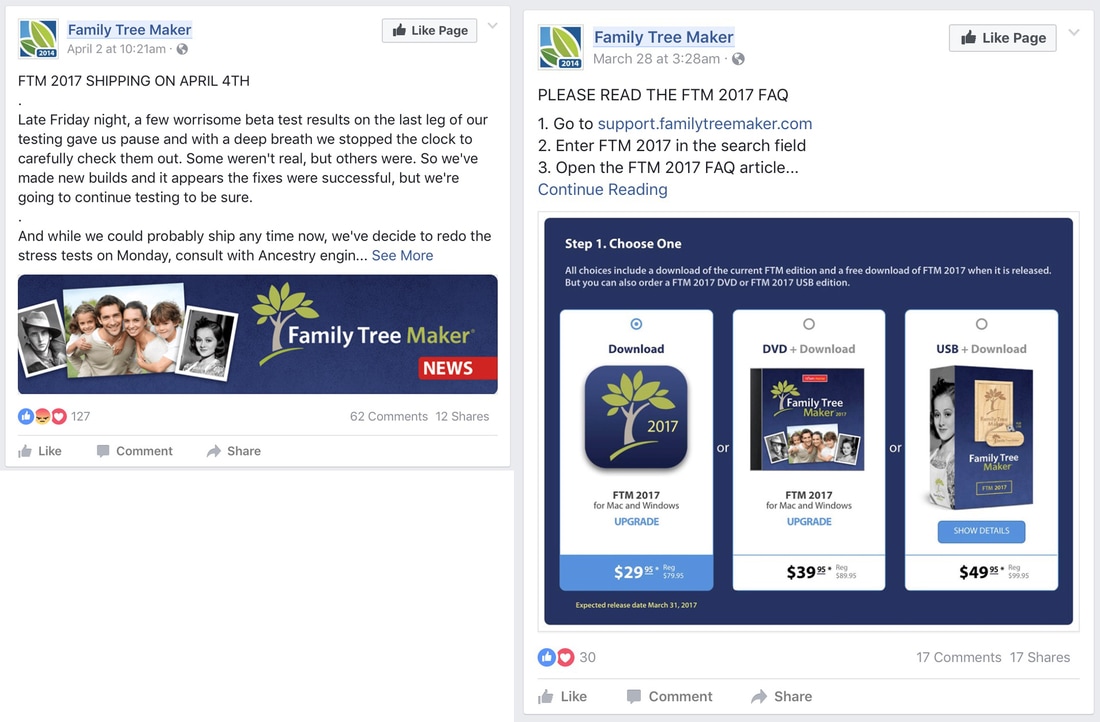 Click Here For The Latest Update From MacKiev.
Jack Minsky shared a link.
FTM 2017 UPDATE - JUNE 13
SYNCING EXPECTED TO RESUME BY FRIDAY
Some good news tonight. We have confirmed that additional modifications made to keep FTM trees safe seem to have been successful. That means for the first time in a week we can begin the process of getting syncing back online again for FTM 2017 testers and test drivers. A hundred core beta testers will perform sync testing tomorrow and if all goes well, we'll be restoring syncing to all FTM 2017 users by the end
of the week.
.
SYNC WEATHER REPORT CARD
We built the Sync Weather Report system with the ability to shut down syncing in case of potentially dangerous syncing "weather" to keep user trees safe. We had of course hoped we'd never have to use it, but we were awfully glad it was there when we began to get reports of an elevated number of sync issues last week. Our early warning systems worked, and allowed us to shut down syncing quickly to protect user trees.
.
KEEPING YOUR TREES SAFE
While sync system modifications were in progress, we decided to build in some new safety features. A warning message will now appear whenever the sync system gets a delete request. ("Are you sure you want to delete 29 people?") We'll also make the sync change log hard to miss. Currently it appears just for 60 seconds which you'd miss if you left to make a sandwich while syncing. So now you'll need to click a button to continue.
.
STAYING UP TO DATE
As soon as we're able to resume syncing for test drivers, we'll announce that here, on our support site, and by email. FTM users will also see the color of the Sync Weather Report window change from Red (no syncing) to Orange (sync with caution). As soon as the Test Drive 2.0 program is ready to roll, we will announce that here, on our support site, and by email as well. And, as usual, we'll continue to update the status of FTM 2017 here and on our support site:
https://support.mackiev.com/498640-RELEASE-OF-FTM-2017
.
.
***
.
QUESTIONS?
Here's some places to go to get answers:
.
ABOUT SYNC WEATHER REPORT
1. Go to
support.familytreemaker.com
2. Enter "weather" in the search field
.
LEARN MORE ABOUT FTM 2017
1. Go to
support.familytreemaker.com
2. Enter "2017 FAQ" in the search field
.
SEE WHAT'S NEW IN FTM 2017
1. Go to
support.familytreemaker.com
2. Enter "2017 feature" in the search field
.
READ ABOUT TEST DRIVE 2.0
1. Go to
support.familytreemaker.com
2. Enter "Drive 2.0" in the search field
.
START A LIVE CHAT
1. Go to
support.familytreemaker.com
2. Enter "live chat" in the search field
.
SIGN UP FOR THE MAILING LIST
1. Go to
www.familytreemaker.com
2. Click the "Mailing List" link
.
PRE-ORDER FTM 2017
1. Sign up for the FTM Mailing List (see above)
2. Follow the link in the "welcome" email
.
Family Tree Maker
Family Tree Maker makes it easier than ever to discover your family story, preserve your legacy and share your unique heritage. If you're new to family history, you'll appreciate how this intuitive program lets you easily grow your family tree with simple navigation, tree-building tools, and integra...
MACKIEV.COM
UPDATE - 4:30 PM UTAH TIME - APRIL 4
ANCESTRY ASKS TO PUT THE COUNTDOWN ON HOLD
Ancestry have provided the results of the stress testing of FTM 2017 with their servers, and they were not what was expected. When simulating scaling to large numbers of users simultaneously syncing their trees, Ancestry saw a degradation in performance that would affect not only the speed of syncing, but the experience for users of Ancestry.com itself and the Ancestry apps.
ACTION PLAN
Given this, we have agreed a number of steps we will take together:

• We are preparing for synchronized testing with an expanded group of beta testers who will try syncing all at once during a particular 1-2 hour period to evaluate the impact with real user trees. We are arranging to have all the testers connected by a central SMS messaging system so that we can have them cancel syncing if problems arise.

• Ancestry will be taking a look at their gateway and other services to see if they can scale up capacity in a few areas to handle greater load. The goal will be to have a greater buffer when, as expected, a large number of FTM users will try out the system all at once. 

• Depending on where we are when ready to launch, we may consider a plan where we do a staggered release to prevent a situation where all users start syncing all at once as they start up FTM 2017 for the first time. We will be reaching out to those getting the new edition to find out who is eager to get started and who'd prefer that others test the system first. 

• Ancestry will continue to keep all connection services other than syncing on until FTM 2017 is released. That means that Ancestry hints, search, merge, maps and the Web dashboard will continue to work as they do now. We hope that this will allow most of you to continue your research while waiting for syncing to resume.

ABOUT TIMING
We are looking to conduct the synchronized beta testing tomorrow or Thursday. When that's complete, and Ancestry has finished whatever short-term engineering adjustments are possible, we will have a much better idea of when we'll be launching. We believe that ranges from this Friday evening at the earliest to the middle of next week. I'm sorry we can't provide a better forecast then that.
HOW TO STAY UP TO DATE
I will continue to post regular updates on our testing progress here, along with more details about the new edition. We will be sending an email as described above offering choices for those waiting for their copy. And we will also continue to post the same updates on the Family Tree Maker support site so that you can send it to those who are not on Facebook if you like. You will find it here:
https://support.mackiev.com/498640-RELEASE-OF-FTM-2017
We are oh so grateful to those of you who are waiting patiently (or impatiently) for this release, and especially to those of you who have been supportive of us taking a cautious approach. While all this hand-wringing may turn out to have been unnecessary, we will long remember the support of this community as we did what we believed to be the right thing.
Thank you!
***
PREVIOUS UPDATES
11:30 PM UTAH TIME - APRIL 3
TESTING UPDATE
It's 1:30 am in Boston and we've just wrapped up stress tests for FamilySync on the Ancestry servers to complete tests that we were not able to finish last Friday. We will get an analysis back from Ancestry sometime in the morning.
Meanwhile we've called up an additional 500 beta testers from our pool of 4500+ for more testing. They'll help further validate the fixes made over the weekend by testing on computers that haven't had FTM 2017 builds on them.
I have to say I am absolutely amazed at the number of users who have stepped forward to offer their help in testing. In no other community on earth would so many volunteers so eager to make the waters safe for the rest of you.
I will post again tomorrow when we have Ancestry and beta test results. A copy of this update can also be found on the Family Tree Maker support site if you would like to share it with anyone not on Facebook. You will find it here:
https://support.mackiev.com/498640-RELEASE-OF-FTM-2017
***

​
GETTING TECHNICAL SUPPORT
Software MacKiev is now supporting all versions of Family Tree Maker for both Mac and Windows, though Ancestry will continue to assist us through the end of 2016 and beyond.
Where to Get Technical Support
Companion Guide.
The first stop for learning how to use features of Family Tree Maker is the Companion Guide which contains step by step instructions for everything you might want to do. You can open the guide from the Help menu while running Family Tree Maker.
Knowledge Base.
We have hundreds of helpful articles posted on our support site on a variety of topics that will be of interest to all users, and can help solve problems. To get to the knowledge base, just go to
support.familytreemaker.com
.
Support Requests.
If you don't find what you need in the Knowledge Base articles (at
support.familytreemaker.com
) just click the link for "additional support" at the bottom of the page and you will see the Technical Support request form. Typically we'll be getting back to you by email in 2 days or less.
Live Chat.
When you file a Support Request (see above) between the hours of 9am and 6pm EST (7 days a week), you will have an option to have a live chat with an experienced support agent. This can be very helpful for urgent issues or those that require a discussion rather than a single email.
Facebook Group.
There is an excellent unofficial but very active Facebook group called "
Family Tree Maker® Users
" which you might want to consider joining. They have many very experienced users who are generous in sharing their time and wisdom to help other users solve problems and learn new tricks.
Replacement Copies.
We have set up an online Replacement Center which is always open. The Center provides free replacements for those with FTM 2014 or Mac 3 and later, and discounted upgrade replacements for older editions. If you are a registered user and find yourself needing a fresh copy, then have a look at "Getting a Replacement Copy" below.
***
GETTING A REPLACEMENT COPY
For any users needing a replacement for FTM 2014 or Mac 3, we have set up a completely automated online Replacement Center. Whether you've had a hard drive crash, are moving to a new computer, or just need to reinstall FTM but your activation code doesn't work anymore, you can use the Replacement Center 24 hours a day to get a fresh copy. Here's how:
Getting a Replacement Download
1. Go to
support.familytreemaker.com
.
2. Click "for additional assistance" at the bottom of the page.
3. Click the Replacement Center tile.
The Replacement Center checks that you have a copy of FTM 2014 or Mac 3 registered with Ancestry and then provides you with a free fresh link by email. You will also be given an option to purchase a backup disc for $10 or our new natural wood USB backup drive for $14. Note that what you get will be a full free-standing installer, so it won't be looking for your old copy, a disc, or anything else.
You will also notice that the replacement copy installer doesn't ask you for an activation code. That's because we don't use them. Why? Well, we don't like them ourselves, so we decided a long time ago we weren't going to torment our customers with them. Instead, we use this old-fashioned thing called the honor system. It's been working pretty well for us for more than two decades now, so don't expect us to be changing that any time soon.
***
GETTING THE LATEST FTM UPDATE BUILD
1. Go to
support.familytreemaker.com
.
2. Click "for further assistance" at the bottom of the page.
3. Select the Replacement Center tile.
If, however, you'd prefer to wait, we'll notify you as soon as the final build is ready. Promise.
***
FAMILY TREE MAKER - HOME PAGE LINKS
Almost everything you will need to know can be found on our Family Tree Maker home page.
Home Page: www.familytreemaker.com.
Links on the home page include:
FAQ - Find answers to the most frequently asked questions.
Feedback - Let us know what we're doing right and what to improve.
Report a Bug - Tell us what you think needs to be fixed.
Suggest a Feature - What you would like to see in our next edition?
Beta Tester Signup - To help us test upcoming editions, sign up here.
Gift Collection - Four perfect gifts for the family historian.
Any Questions?
If you have questions for us, please first read our FAQ as we've tried to answer the most common ones there. If you don't find the answer you are looking for, please send your question through our Feedback Form which you'll find on our FTM Home Page (see above). Thanks!
***
© 2016 The Software MacKiev Company. Family Tree Maker is a registered trademark of The Software MacKiev Company.
Ancestry.com
and TreeSync are registered trademarks of
Ancestry.com
Operations, Inc.
***
To be removed from future Family Tree Maker emails, just reply to this email with 'unsubscribe' in the subject line.
Software MacKiev: P.O. Box 130410, Boston, MA 02113–0008, USA