HINTS TOPICS DISCUSSED BELOW

* Not all data from FTM synchronizes with Ancestry
* How to keep my tree clean
* Family History Digital Folder Organization
* Naming Digital Genealogy Files
​


Not all data from FTM synchronizes with Ancestry


Extracted from a post by Gary Inglish in the Facebook Group: Family Tree Maker® Users, November 10, 2017:

Not all data from FTM synchronizes with Ancestry during FamilySync. -- The Program help lists these items under "Uploading to and downloading from Ancestry.com"

Data that does not synchronize:
•Research notes
•Fact notes
•Relationship notes
•Media notes
•Relationship media
•Source media
•Saved charts and reports
- The Companion Guide Page 240 lists these items:
• Audio and video items are not transferred between Family Tree Maker and - Ancestry.
• Media items attached to relationships in Family Tree Maker are not - uploaded to Ancestry.
• Ancestry records you've merged into Family Tree
Maker won't be re-uploaded to Ancestry.
• Documents can't be uploaded to Ancestry trees in these formats: .exe, .dll, - .bat, .htm/.html, and mht.
• Photos that exceed 15MB
• All notes are uploaded, but only person notes can be viewed or edited in online trees. (Note this is different from Help)
• Shortened display names and GPS coordinates
• Saved reports, charts, and books.
- In addition, we have discovered that these additional items do not sync:
• WebLinks
• Media and other Items Marked as Private in FTM
• Resolved Place Name status (the actual names do)

-Added from Comments:
* Person ID and Relationship ID
* Ancestral File Number Fact
* Color Coding added in FTM will not be sent to Ancestry.
* Person ID does not make it to Ancestry.
* COLOUR CODING isn't sent to Ancestry

​

How to keep my tree clean
​
A useful list of things you should do to keep my tree clean published August 21, 2017, in the Face Book group, Family Tree Maker Users, by Elaine Kern Sheets.


1. Backup at least weekly or more often-completely up to you just make sure you do it!
2. Compact (I do daily)
3. Run data error report and make corrections (this is a must do) keep running until you have it cleaned up then weekly (you can filter this report many ways)
4. Resolve place locations. Merge and correct so that you have a location only once. I use city, county, state, USA. (I always remove the word county)
5. Run duplicate person report and resolve those that are truly duplicated
6. Remove or resolve source title documents that are not linked (go to source-source title- at very bottom of list is unlinked)
7. remove or resolve source citations by person that are not linked to a person. (Go to source-person-at very bottom of name list is unlinked)
8. Delete duplicate media
9. I put all media into a category (please don't debate this with me as it works for me and I have multiple good reasons for doing so). Don't knock it if you have not tried it. If you don't do this you really are not studying and using media! *
10. Sync often. If I work in FTM2017 I sync before I move to ancestry. If I work in ancestry I sync in FTM2017 before I start doing anything in FTM2017. Never ever work in both or you take chance of never being able to sync. **11. Sort all children by birth date. I discovered you can do this by clicking on a spot in FTM. Love it (it may have been in other versions but if so I never saw it until now). Go to tools top left in FTM and then click on sort all children by birth
12. Added from feedback received! This is an awesome report. I run a calendar report every month which enables me to see people who are too old, people who no longer fit into the tree, and most of all to fix relationships where there have been divorces and deaths (just entering a fact of a death or divorce does not automatically change the relationship).
13. Added from feedback!
Sort spouses by marriage date. This is not nearly as easy as sorting children by birthday, but it will put spouses in order in reports and charts, so it's worth doing.
14. I forgot this one: global spell check. Takes a while but I found I had made typos

* #9 explained- this will be long explanation: the first thing to know about categories is:
1. You can add categories
2. If you use categories you will only have them in FTM2017 not in ancestry
3. If you ever have to download an existing tree for whatever reason always only do it from FTM to ancestry because you will loose them all if you download a tree from ancestry as they are not in ancestry
4. It is time consuming to get all media into a category- but worth it
5. Once all media is in a category when you sync on going from ancestry to FTM your new media coming over will go into uncategorized folder
6. You can then work your uncategorized media and first look at usage and go to the person it is attached to to ensure it is not a duplicate media for that person. If duplicate you delete it
7. By looking at for example your items in death category you can now go through and study death certificates. So much information to be gained by death certificates. Birth date death date parents names birth location cemetery buried in etc
8. But looking at media that is for example a headstone picture you can learn the spouse name and verify birth and death dates.
9. You should only need a headstone picture one time (drives me crazy when people add multiple times). Link media to all people involved to the same media record
10. There are so many reason to work your uncategorized right when you get them and even if you add a media record into FTM I add with no category so that I can then link it to multiple people
11. I always let media pictures come over from ancestry via a sync because this way the original person that shared the media on ancestry is always kept and maintained. They should get credit for originally submitting a photo. Those people that download a picture from ancestry and then upload to FTM are then adding a media item as their own. Not nice
12. I rename my media before I put into a category- last name - first name middle name (maiden) last name again. I always do husband first then wife (drives me crazy when people put pictures in ancestry with "dad" or the word "image"
And by doing this all my media in a category is in alphabetical order which makes it so easy to find media in a category
13. The main thing is you can study and work uncategorized items and know they are both places correctly if you work then as you get them.

Examples of media categories from Elaine Kern Sheets: Photos, census, death information, birth information, cemetery, border crossings, funeral folders, obituaries, passenger lists, world war/draft information, marriage information, cemetery signs, us city directories, find a grave screen prints, miscellaneous.





​



​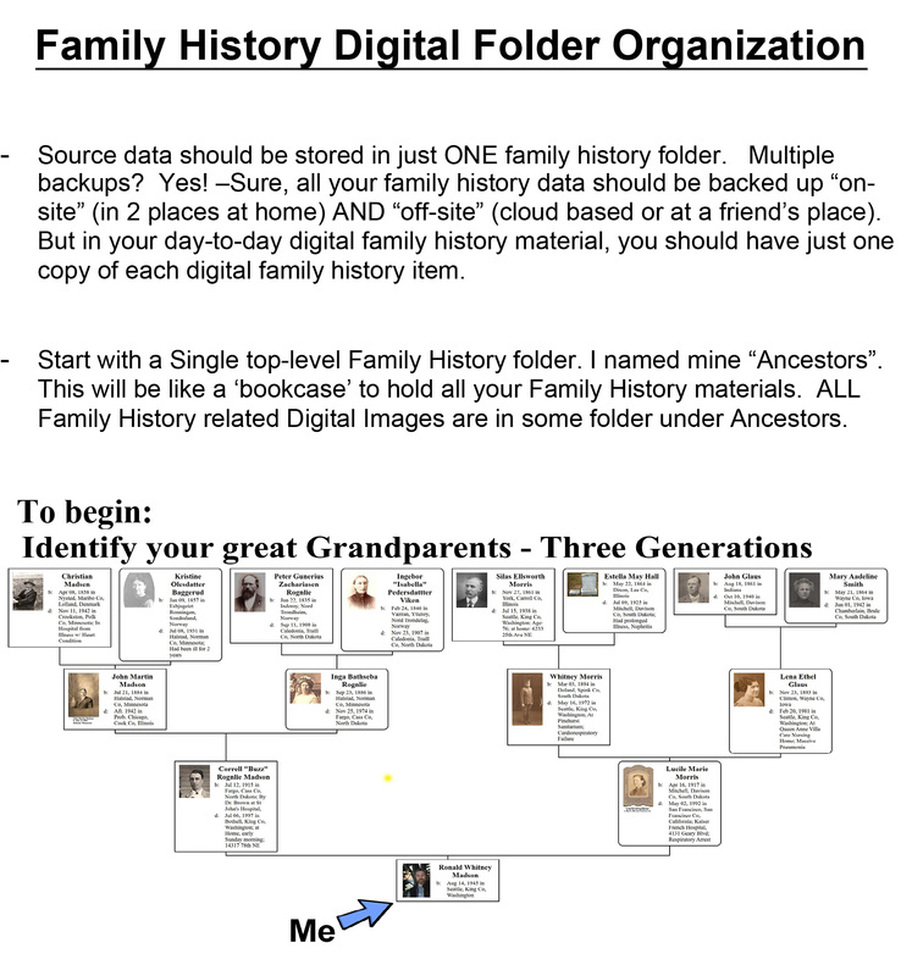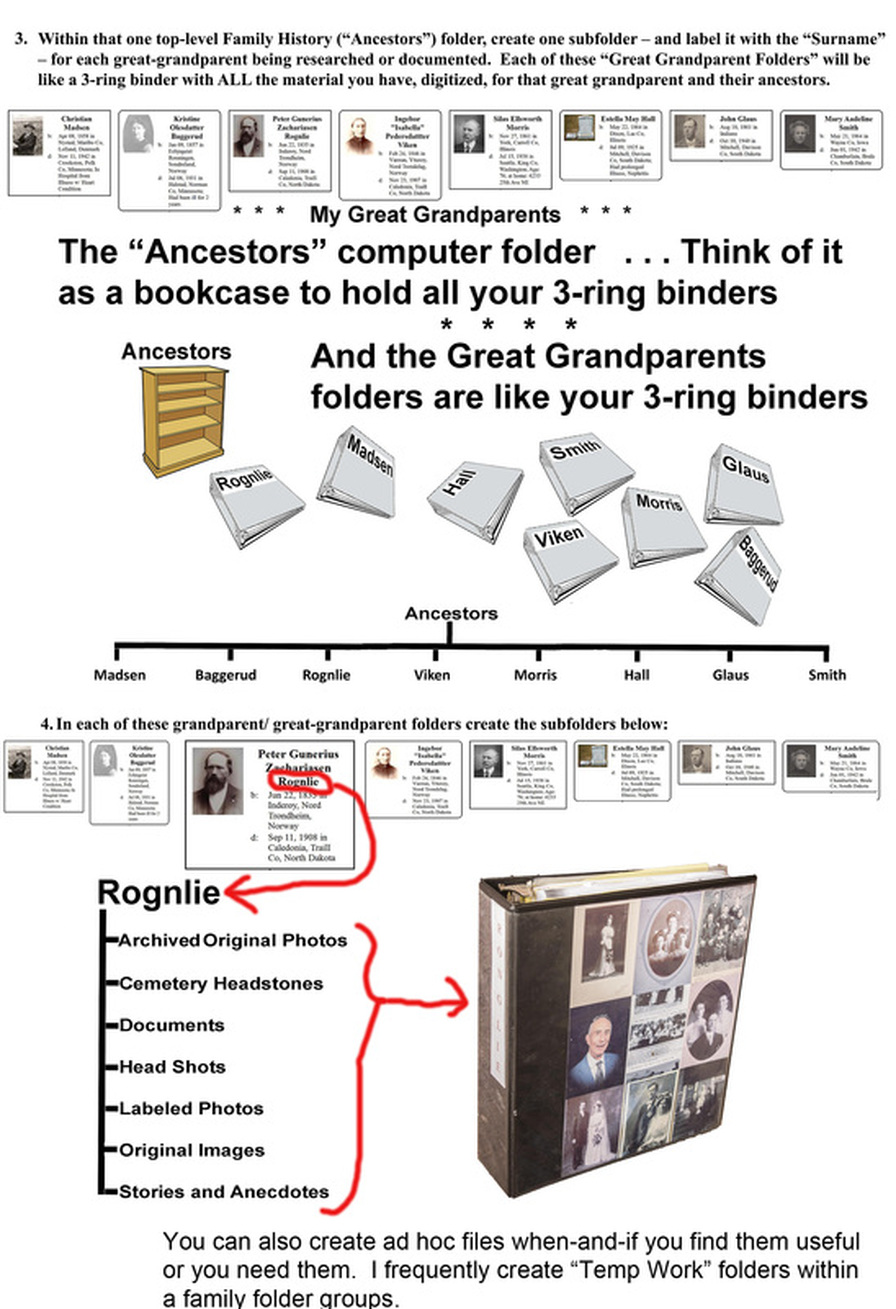 Naming Digital Genealogy FilesThis is my recommendation for naming every digital piece of Family History material. It works. It's easy.
- Purpose:
o to make it quick-n-easy to create, easy to maintain and use file naming system
o make it quick and easy to locate source documents and images in your computer
- File naming is not a source data citation system
o You do not need to put source data or citation material in the file name
o Use enough in the file name to be able to quickly find/identify the image.
- File names can be up to 255 characters, including letters, numbers, spaces & many special characters, except: :
\ / : * ? " < > |
cannot be used in file names…
Primary file name format:
Surname, Given name(s) – Type & year – Description
- Abbreviations for Type of documents that I use in naming files:
b birth/baptism o obituary cem cemetery/headstone
m marriage registration p will/probate related dra military draft
d death Document n naturalization nsp newspaper/mag
c census mil military record pas passport
l land/homestead i immigration/emigration div divorce
ph photograph bio biographies or story bib family bible
For the many many other items such as religious docs, occupations, SAR/DAR, etc., use whatever makes sense to you, abbreviations are most useful. NOTE: When you use a new document type abbreviation, WRITE IT DOWN! This will help you be consistent next time. I will guarantee you that no matter how much sense and obvious your new "Type" is you won't remember it. And, consistence IS important. Remember these are for YOU.
Examples:
Madson, Correll – b1915 - cert
Madson, Correll – b1915 - pastor's birth/bap
Madson, Correll – b1915 - doctor's cert
Madson-Rognlie - m1912 - cert
Morris-Hall – m1884 – return
Morris-Hall – m1884 – lic– p1
Morris-Hall – m1884 – lic – p2
Morris-Hall – m1884 – lic app
Ryan, Michael – d1901- cert
Ryan, Michael – d1901- orig
Ryan, Michael – cem1901- plot descriptor – New Cathedral Cemetery
NOTE1
:
If there is ambiguity, confusion, or potential duplication, use the "Description" entry to clarify the item.
NOTE2: Obituary, and probate/will file names have the death date following the" o" and "p" respectively. "n" will be followed by the date of naturalization; "mil" followed by enlistment date, draft date, or date of the military related document. I think you can get the picture from here.
Photo file naming format:
Photograph file name format for a single person
:Surname, Given Name(s) –"ph" & Date or approximate date photo was taken – location where photo was taken - short descriptive word
.
If the year of photo or location of a photo is not known, estimate or leave the item(s) blank.
Example:
Glaus, John – ph1915 - Chamberlain SD – graduation
Photograph format for a group photo:
Surname, Given Name of the principle person in the photo, (Or Group Name) – "ph" & year photo was taken – location – short descriptive word.
If the year of photo or location of a photo is not known, estimate or leave the item(s) blank.
Example:
Glaus, John –ph1912 – Chamberlain, SD- Chamberlain rotary
Cemetery Headstone photo format:Surname, Given Name(s) – "cem" & death date – cemetery name - Description
Hall, Philander – cem1825 – Fulton Cemetery - headstone
Ryan, Michael – cem1901 - New Cathedral – plot monument
NOTE
:
The "cem" type designates a headstone unless otherwise indicated, eg
"plot card".
Audio and Video file formats:Surname, Given Name ( of person on recording ) – "a" or "v" & year of Audio/Video recording - short description
West, Leone - a2007 interview, Morris family discussed
Marie, Unni - a2008 translation of Rognlie farm history
Web Hosting
by FatCowWest, Leone - a2007 interview, Morris family discussed
Marie, Unni - a2008 translation of Rognlie farm history
Web Hosting
by FatCow