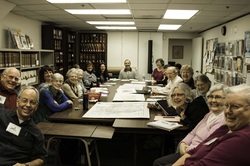 Next FTM-SIG, March 17th
The Free FTM Update is here! The Companion Guide is available in paperback form! The Mar 17th agenda.
* Register for the Mar 17th FTM-SIG Meeting.
* Click for a shared
Dropbox
folder of ALL FTM-SIG meeting handouts and PowerPoints
*
California Genealogical Society & Library:
http://californiaancestors.org
* Photos of CGS events are on Flickr, click
CGS Photos
.
​ * There are new articles in
Hints-n-Help
...
Check them out!
* See FTM-SIG
Meeting notes
* See
Software MacKiev News
for the FTM 2017 Announcement .
*
For The Latest Update From MacKiev. * Join us on Facebook,
click here. FTM 2017 is mandatory if you want to sync with your tree on Ancestry.com. You will find information and links at: Software MacKiev News.
​ The Family Tree Maker Special Interest Group

FTM-SIG is a user group within the California Genealogical Society - CGS. The FTM-SIG has the purpose to help Genealogists use FTM optimally to further their family history work and to promote CGS. It meets on the 3rd Saturday of each month from 1:00 pm to 4:00 in the CGS Classroom, 2201 Broadway, Suite LL2, Oakland, California, 94612-3031. (510) 663-1358Check out our FTM Hints-n-Help page for helpful suggestions and FTM usage hints from past meetings. Also contained there are Ron's suggestions for "genealogy folder organization" and "genealogy file naming" convention.Questions concerning the group can be sent to the FTM-SIG facilitator.
---